Presentation to CCNY Engineering Students – April 12, 2018
On April 12, 2018, Salvatore Galletta, PE, AEA Chair, and George Tavoulareas, PE, NSPE-Queens Chapter President, did a presentation to Engineering students at CCNY. The presentation covered a variety of issues of critical importance to future Engineers. This presentation is part of our on-going "Students Outreach" program which tries to convey to the Engineering students those non-technical skills that are sorely missing from the typical Engineering curriculum.
The presentation covered: 1) Licensure 2) Ethics 3) Negotiating a job offer and other professional issues. We also surveyed the current job market and the advantage that licensure confers on a job seeker.
Judging from the students' questions and lively discussions that followed the presentation, our presence had a very positive impact on the students (see students' impressions in emails below). We succeeded in giving the students a heads-up on what to expect once they enter the Engineering profession.
After the presentation we met with some professors and administrators to discuss how CCNY can promote this dialogue between students and the practicing Engineers. We had an open and frank discussion. The professors and administrators realize the importance of what we are trying to accomplish.
Hopefully, they will embrace our efforts and establish an on-going relationship between academia and practicing Engineers. If we can achieve this goal, everybody benefits, the students, academia, the Engineering profession and ultimately Society.
A few pictures from our presentation: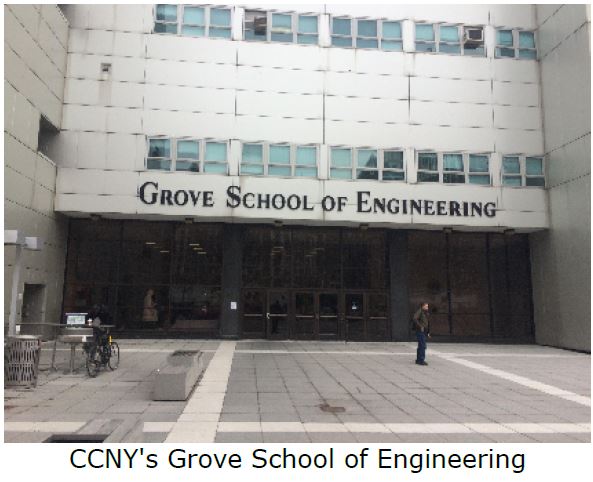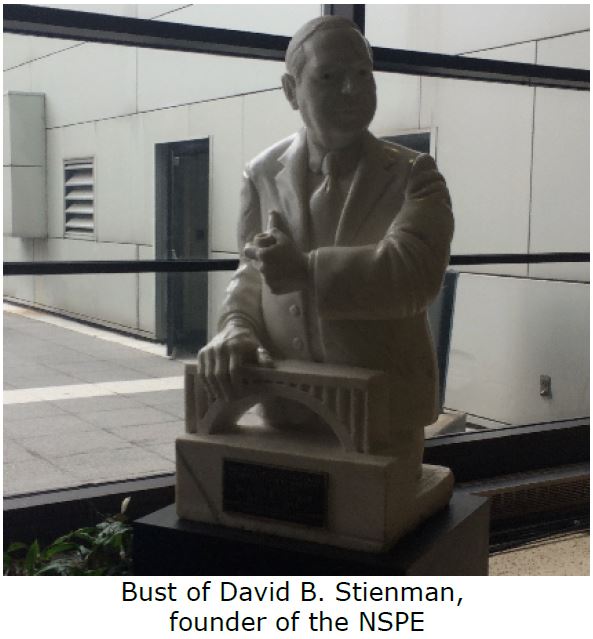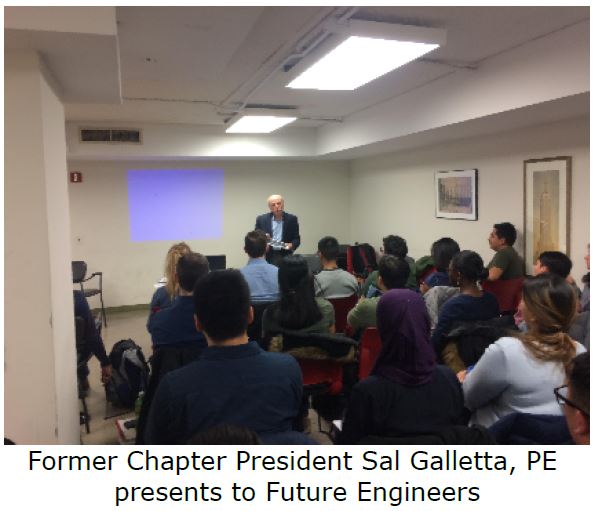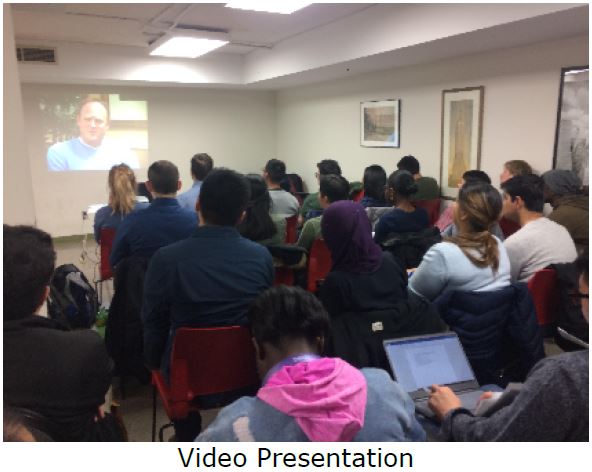 Two student emails in response to our presentation:
Dear George Tavoulareas, thank you very much again for taking your time to visit The City College of New York and providing a beautiful and informative lecture about Engineering as a Profession and giving students useful advice. One of the very important pieces of knowledge I was able to elicit from the talk was that there is an examination that we as prospective engineers have to pass in order to be able to become Professional Engineers. This exam, named "Fundamentals of Engineering (FE)", is an exam for recent graduates or people approaching graduation, which is a necessary step to become a licensed Professional Engineer. The examination lasts 6 hours and consists of 110 questions. Not only it was interesting to find out all the details about the exam, but, in addition to that, I did not even know about the existence of such an examination, since I believed that graduating and acquiring a certain number of credits was enough to become a PE.
Another one of the numerous things I learned during the lecture was the importance of giving myself credit for the work I have completed. Very often people appear to be too shy to mention all the engineering-related work they have completed in their lives. Any experience that we as engineers go through in our lives matters and should be mentioned to our prospective employers. Furthermore, you explained to us that working as a member of a big group does not decrease the value of the work and effort we put in the project or any process at all. Therefore, it is absolutely ethical to use such words as "I design" when referring to a team project on a resume or any other form of documentation, given that we took part in the project.
In addition to all the information mentioned previously, you also mentioned that one of our paramount concerns should be not only acquiring a PE license, but also maintaining it by satisfying the requirements to keep the license active. I was surprised to find out that we as engineers have to apply and get a license that is state-specific, meaning that a Professional Engineering license can find its practice only in the state it originated from. As you were speaking, you stressed the importance of and put a lot of emphasis on public safety and mentioned that it has to always be our paramount priority. This led to the issue of license abuse, since a licensed engineer should never under any circumstances approve, sign, or stamp any project or initiative if he/she is not specialized in the area of the project being signed. Such an unlawful, dangerous, and immoral practice is often referred to as "rubber-stamping", and any engineer attempting to break the law with the purpose of gaining financial security should have his/her license taken away immediately to prevent damage to the public. Furthermore, you also mentioned that a license is not eternal, and it requires the input of the carrier in order to stay active. A licensed engineer has to renew the license every 3-4 years and continue education and work in the field with at least 12 credits per period to be able to renew the license.
What made this lecture stand out from the rest of the talks I have ever attended was that George and his partner not only explained the bullet points describing how the system of Professional Engineers works, but also gave us inspiration to value ourselves and never underestimate the value of our knowledge, skills, and experiences. First of all, one of the keys to success is to be a person that is an extrovert rather than introvert, since creating and maintaining connections plays a crucial role in career-building and job search. We should never agree to contracts if we believe that the compensation offered is lower than the average paid for the position. The research can easily be done using national and local salary surveys, which could be found online, including websites such as NSPE.org. Last but not least, George mentioned that if for any reason we are not satisfied working for a certain company, there are no reasons to stick to it, since the opportunities are unlimited, and we should always look for what is best for us, since in a certain way, job search for PE members is similar to a process of negotiation, where we have to work hard to maintain public safety and improve human life – all that while receiving reasonable compensation for carrying the weight of numerous responsibilities on our shoulders.
Lior Agaronov
CCNY student
On Thursday, April 12, 21028, I attended a presentation by The National Society of Professional Engineers (NSPE) along with fellow students at the Grove School of Engineering. George Tavoulareas and Sal Galletta outlined the criteria involved in obtaining an Engineering in Training title and a Professional Engineer (PE) title and licensure. They also discussed ethical engineering practices, stressed the noble role of engineers in society, and advised students on how to prepare for careers in engineering. A video presentation with perspectives from working PEs was shared, followed by a question and answer session.
Having some basic knowledge already about the PE and FE exam, I learned more of the specifics of how to obtain a PE license. I learned that in addition to passing the exam, one must complete engineering work under the supervision of PEs, for four cumulative years. I also learned about the state website which gave more specifics. I learned that licensure was issued on the state level, and that there are possible reciprocities if you have a preexisting New York PE license and want to work outside of New York. I also learned about the desirability of a PE license to an employer, and the benefits to an engineer in terms of salary and career options. These are important factors for me personally to consider as I am looking for my first internship and job placements in the field. I will now make sure I ask about PE supervision in any future position so that the time will count towards licensure. Similarly, I have taken away from George and Sal's advice to prioritize taking the FE exam as soon as possible. In considering any job out of state, I also know to consider the move as it relates to my goal of becoming a PE.
Aside from the PE discussion, I gained inspiration from the career stories of the presenters as well as the engineers in the video. I especially appreciated the impactful nature and pride that each engineer expressed about their work. It affirmed many of the reasons I have chosen to take this career path. Often, there can be a large disconnect between the academic and professional world, and it can be easy to lose sight of the big picture when getting bogged down with an intense academic schedule. Having a chance to interact with professional engineers helped to bridge this gap for me and to refocus my larger career goals.
Presentation on Ethics to LIU Students - April 10, 2018
On March 20, 2018 Salvatore Galletta, PE, AEA chair, made a presentation to Computer Science/IT students at Long Island University in Nassau County, NY. He was assisted by George Tavoulareas, PE, President of NSPE-Queens Chapter.
The presentation was well received by the students. The presentation emphasized the need for technical professionals to uphold as paramount the safety and welfare of the public. These were several ethical cases presented and the students were engaged in a lively discussion of what it means to act ethically in discharging one's responsibilities as a technical professional.
AEA will continue to give presentations to Engineering students on a variety of topics as part of its "Student Outreach" program.
Climbing Wall Update - March 6, 2018
The Climbing Wall under the Manhattan Bridge is getting a protective shield according to the administrators for the Brooklyn Bridge Park. It appears that the City is taking seriously the danger of falling debris from the Manhattan Bridge. The City is in the process of issuing policy guidelines for the utilization of public spaces underneath elevated structures. This is a welcome development which AEA should take some credit for after bringing this issue to the attention of the City. See the below article for more details.
AEA Advocates for Public Safety
AEA Advocates for Public Safety – Update (2/11/2018)
In May of 2017, AEA sent a letter (see May 6 letter below) to Mayor DeBlasio alerting him (and other stakeholders who received a copy of the letter) of a dangerous condition that merited his immediate attention. The letter did not trigger an immediate response as we had anticipated. However, that changed when a steel plate fell on the grounds of the Climbing Wall Facility located below the Manhattan Bridge on the Brooklyn side. Immediately, the Facility was shut down. An inspection of the train tracks above cleared the way for re-opening of the Facility. Unfortunately, the Mayor did not acknowledge our letter or reach out to us for advice or guidance. To this day we have not heard from this Administration. However, we do know that action is being taken by one of the City's Agencies. We hope that the City will take immediate and swift action to ensure Public Safety.
AEA will monitor the response of the Mayor (and other stakeholders) and will take additional steps if this dangerous situation is not remediated (see letters below).
AEA Instrumental in Shutting Down Unsafe Facility
AEA Instrumental in Shutting Down Unsafe Facility - May 28, 2017
It appears that AEA's letter to Mayor De Blasio (with copies to other stakeholders) concerning the hazardous condition of the Climbing Wall beneath the Manhattan Bridge had a positive impact. Although we alerted the mayor's office, we were initially ignored. Soon after we sent the letter to the Mayor, a large metal plate fell on the grounds of the Climbing Wall Facility narrowly missing some climbers. It was this incident that forced the Mayor's hand and resulted in the temporary shutdown of the Facility.
We have to be grateful that it did not take a loss of life for the city to take action.
It appears that AEA's intervention in this matter was instrumental in avoiding loss of life and insuring the Public Safety. We will continue monitoring this issue.
AEA Raises Public Safety Alarm
May 16, 2017
AEA Raises Public Safety Alarm
AEA became aware of a dangerous condition below the Manhattan Bridge that poses an imminent public safety threat. AEA acted swiftly to address this public safety issue by alerting Mayor de Blasio and other stakeholders via registered mail.
We hope the Mayor will take quick action to protect the public from this hazardous condition. The letter below describes the situation. AEA will monitor the Mayor's actions and will respond accordingly.
Honorable Mayor Bill de Blasio May 6, 2017
City Hall
New York, NY 10007
Honorable Mayor de Blasio:
As licensed Professional Engineers, who have been entrusted by the State with the duty of protecting the public's health, safety and welfare, we have an obligation to inform you of an imminent public safety issue. The cause of concern is the recent installation of a "climbing wall" under the ManhattanBridge on the Brooklyn side. It appears that no consideration was given to the fact that this location exposes potential users of this "climbing wall" to falling bolts and other debris from the ManhattanBridge, which is directly above and carries four MTA train tracks with no shielding.
If no provision is made to protect the users of this facility, it is almost a certainty that there will be serious injuries and possible fatalities from the debris falling off the ManhattanBridge deck. I urge you to take immediate action to prevent potential injuries or loss of life.
In addition to addressing the above specific public safety issue, we also urge you to survey all City infrastructure facilities that could pose a similar threat to public safety from falling debris.
We stand ready to assist you, in whatever capacity, in addressing this serious public safety issue.
Respectfully Yours,
Salvatore R. Galletta, P.E.
AEA, Chair
CC: Governor Andrew Cuomo
NYS Senator Velmanette Montgomery
NYS Assemblymember Jo Ann Simon
Council Speaker Melissa Mark-Viverito
Councilmember Stephen T. Levin
Community Board 2 Chairperson Shirley McRae
NYC DOT Commissioner Polly Trottenberg
Local 375, DC 37 John English, Administrator
Metropolitan Engineering Societies Council President Wasyl Kinach, PE
AEA Chairperson Receives NYSSPE Award
July 27, 2016
AEA Chairperson Receives NYSSPE Award
AEA chairperson, Salvatore Galletta, PE, received the prestigious Government Engineer of the Year Award from the NY State Society of Professional Engineers (NYSSPE) at their Annual Convention in Wading River, Long Island, on June 2, 2016. This award recognizes a government Engineer who has made substantial contributions in discharging his duties while promoting and advancing the Engineering Profession. Mr. Galletta received a standing ovation from his colleagues in recognition of his many years of passionate advocacy on behalf of the Engineering Profession.